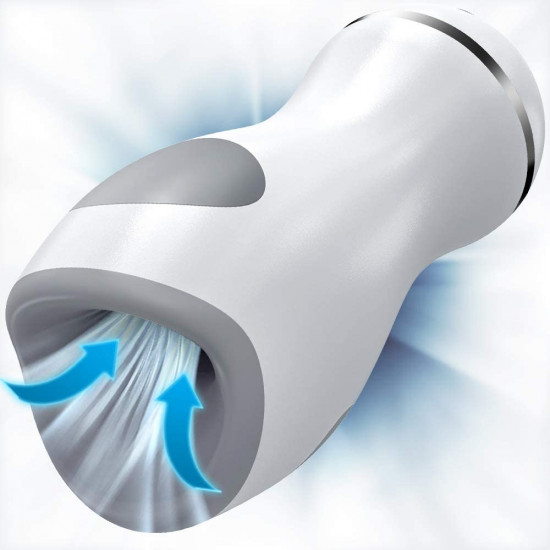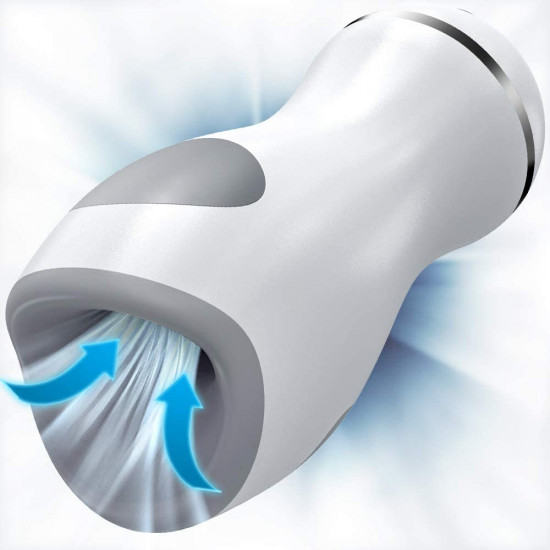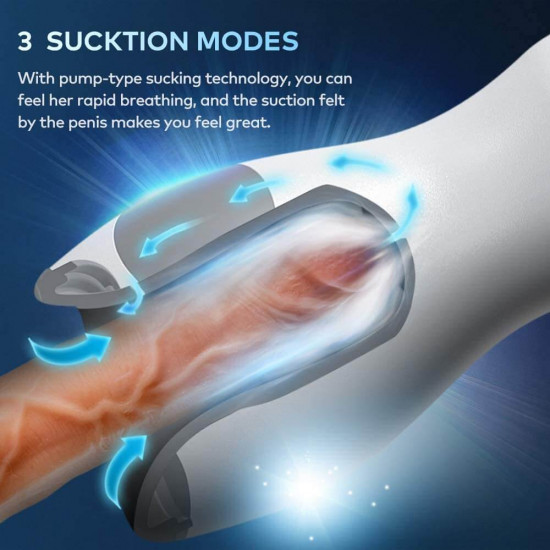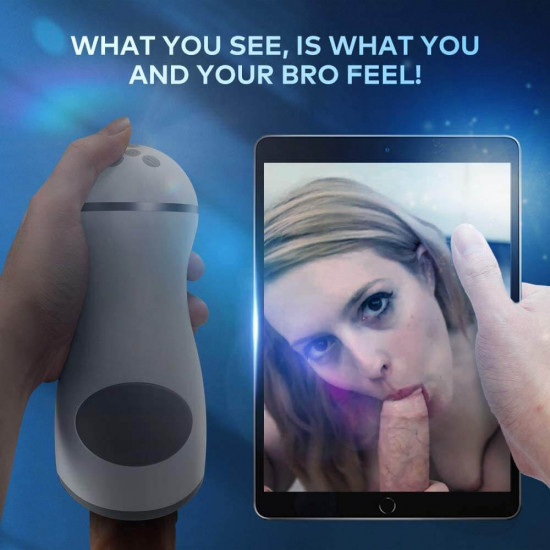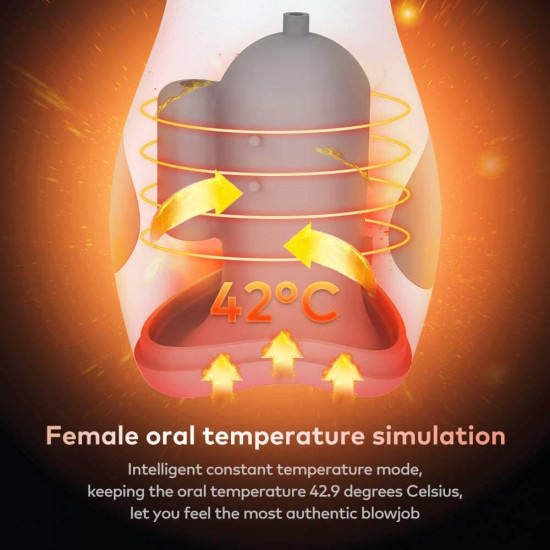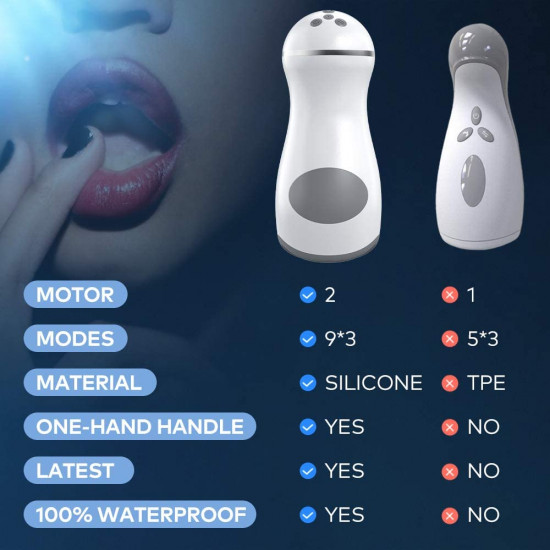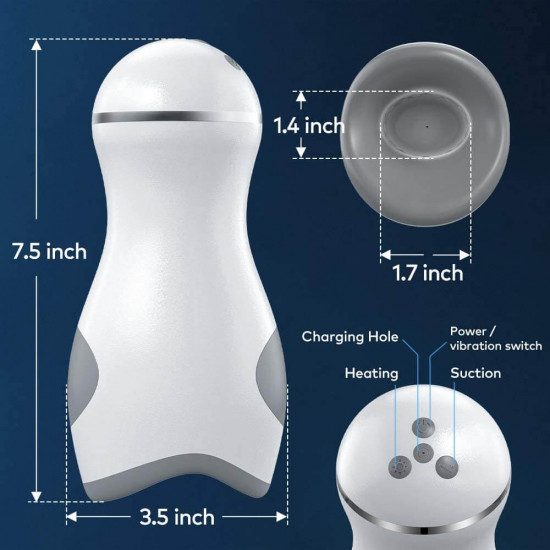 New -15 %








automatic dick sucker heating vibrating male masturbator
An up-and-coming realistic sex item for males is the automatic dick sucking. This mechanical dick sucker is made of soft silicone, giving you a realistic sex experience. With its three functions and nine vibration modes, you can experience various sex sensations. Additionally, the heating feature gives you the impression that the object is not chilly. That's wonderful.
Features:
1. NEW PUMP SUCKING MASSAGE CUP — To give you a more authentic oral sucking sensation, this mechanical dick sucker with pumping construction replicates the airflow in and out during oral sex through two air holes. You will be amazed and feel your hair standing upright when a powerful suction is produced close to the glans (urethal entrance), similar to the breath-sucking sensation from a gorgeous mouth. It is really different from any sucking you have ever had!
STROKER MADE OF SOFT SILICONE — Flexible silicone, similar to the soft oral environment of women, is inside the male masturbator cup, which induces relaxation and obsession in users. Your fantasies and needs for a blowjob are satisfied by the dick's perception of being encircled by delicate skin thanks to the silky soft inner cover. You may devote yourself to this high-grade oral sex enjoyment thanks to the straightforward and comfortable design, which is effortless to grip, and the satisfying feel of the frosted shell.
3. 9 VIBRATION MODES & 3 SUCTION MODES — You may flexibly match and let her serve you at your preferred speed thanks to the dual motors that improve the vibration sensation. Nine vibration settings and three sucking modes operate separately. What you want to do is enjoy the gentle and compact sexual pleasure from this excellent stroker! The excitement of sucking is distributed throughout from your glans, and the strong vibration from the penis intensifies the feeling of the cells.
4. 42° CONSTANT HEATING – According to research, the combination of stimulating suctions and on-demand warmth has a very beneficial effect on the heads of most penises. It's difficult to beat the believable sensation of a heated mouth! This blowjob cup will fulfill all of your fantasies.
5. READ PRIOR TO BUYING — 1. The vibration feature cannot be disabled; 2. The interior is made of soft silicone, while the exterior is made of rigid ABS. 3. The product's inner diameter is around 4 cm; buyers with larger penis should carefully compare the dimensions; 4. A long penis cannot be fully inserted; the insertable length is just approximately 10 cm.
New pumping structure
The simple and exquisite structure provides a good guarant*e for perfect oral sex experience!
SUPER POWERFUL NEW SUCKTION FOR YOU
In order to show the sucking function, we use water flow here to help show the "air circulation sucking".
Sucking + Vibration function:
Use water flow instead of gas to show its working principle and path. What you see is the air outlet;The bottom of the silicone sleeve is the air inlet, the source of its strong sucking force, which will surround you and drown you!
3 powerfulmotors offer strong vibration,and there us 9 frequency for you to choose;
Heats up to 107 degrees Fahrenheit (42 degrees C);

7.5 inches tall, 3.5 inches wide, 2.95 inches deep;

Suction and heating mode is independent, vibrating mode doesn't;

Waterproof grade is IPX7, and noise less than 50 db.
26 PARTICLES ENHANCE STIMULATING

26 particle protrusions on the flexible silicone inner sleeve mimic the appearance of particles in the mouth cavity. When in vibration mode, it can increase contact stimulation with the cock and provide you more stimulation.

HOW TO INCREASE FUN




Even after holding anything for a long period, you won't get tired from the ergonomic grip design. How can the fun be increased?
27 options are available from 3 * 9 combinations; you can use them to insert, swing or rotate, try out new activities, and stimulate various parts to feel fresh energy!




HOW TO USE




Power key: long press to turn on and turn on the vibration mode, short press to switch 9 frequencies

Sucking key: long press to turn on the sucking function, and short press to switch between 3 sucking modes.

Heating key: long press to turn on heating mode

Charging hole: support USB charging




*PLEASE BE CAREFUL NOT TO GET WATER INTO THE BUTTON PART.

PRIVATE PACKAGING BOX

We respect and are willing to protect your privacy.The all-black private box will not reveal your itinerary. No one knows what is inside, making your shopping more confident!
Stock:

In Stock

Model:

heating-vibrating-male-masturbator-for-penis-stimulation-with-pu

SKU:

heating-vibrating-male-masturbator-for-penis-stimulation-with-pu