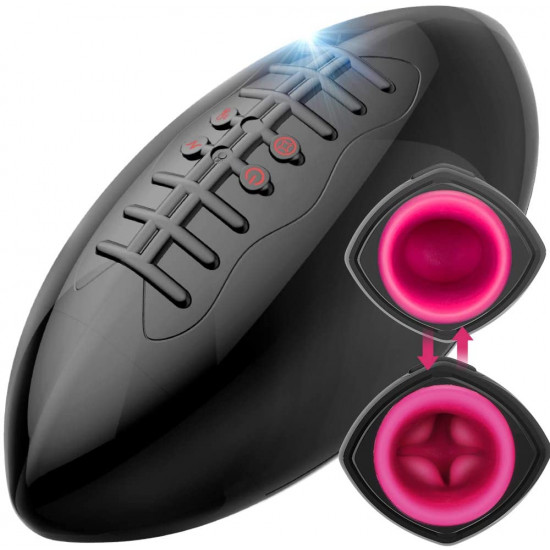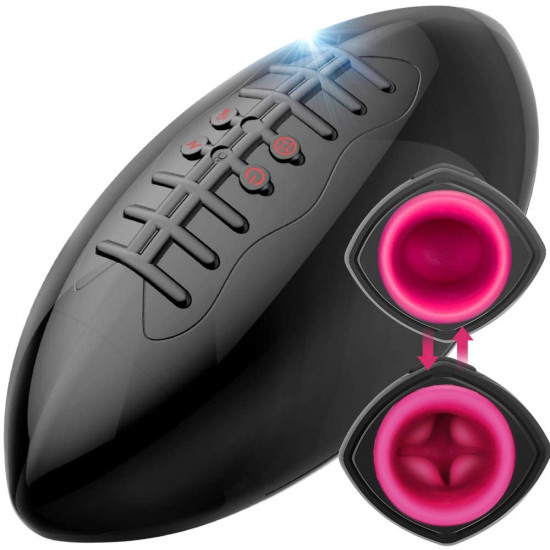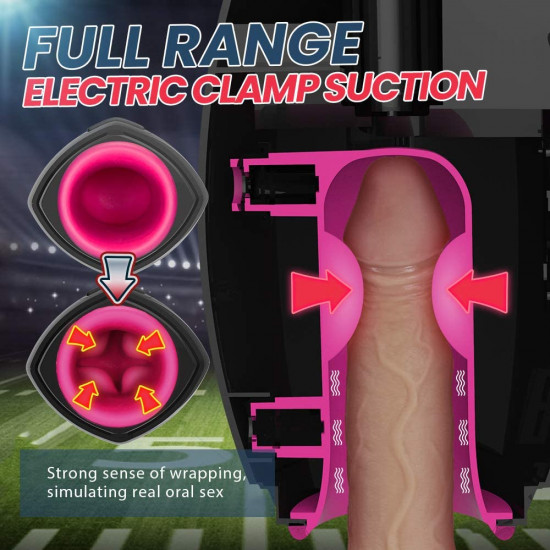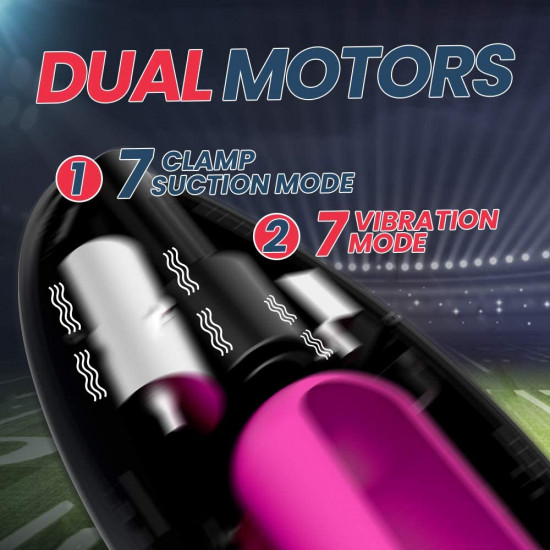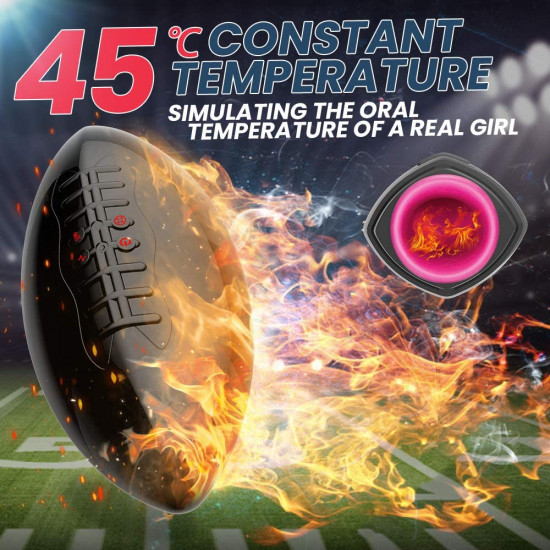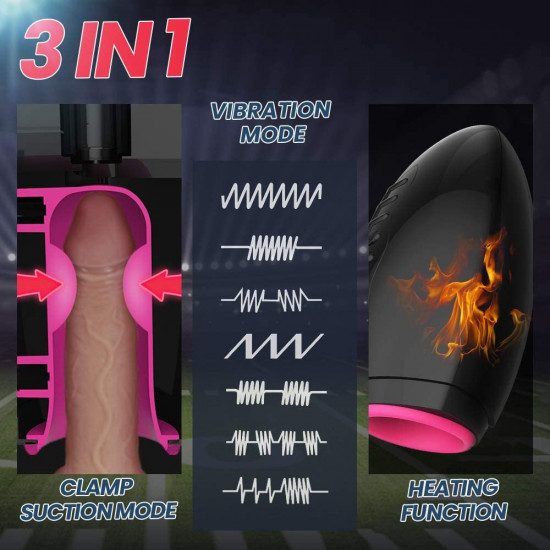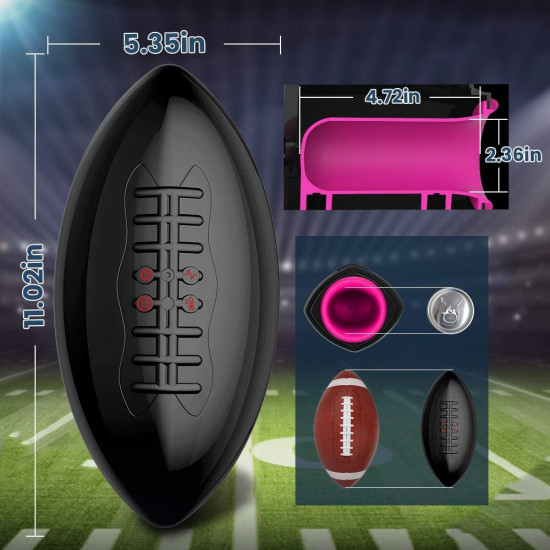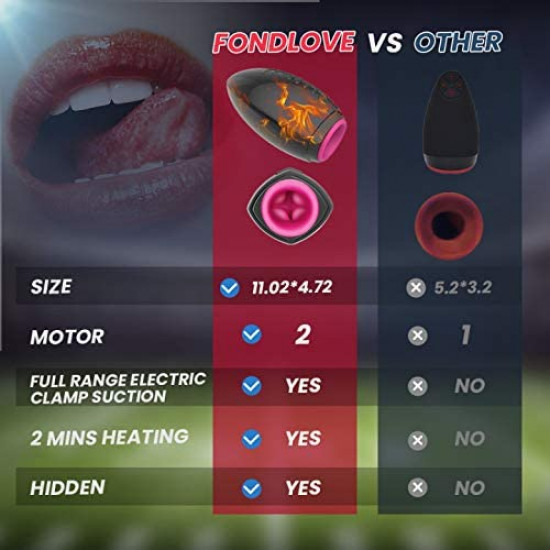 -15 %








7 clamping vibration modes speedy heating oral sex toy
Features:
1. 360-degree electric clamp suction
This male masturbator device differs from the previous one in that it has 4 novel airbags, as opposed to just up and down or left and right suction. It is possible to clamp and suction the masturbator in all directions at once. It can mimic actual oral sex and is more tightly wrapped. In addition to having a firm clamping grip, it also allows for enjoyable stretching and breathing. You can achieve orgasm thanks to the powerful stimulation of the coronary sulcus and glans, which simulates actual swallowing.
2 UPGRADE MOTORS
There is a compelling reason for the improved dual-motor design of oral sex toys. Stronger vibration, tighter clamping, and a longer use time precisely stimulate your genitalia and enhance your sex experience. The clamping mode and the vibration are each controlled by two motors. The two modes can operate alone or jointly. You can match them up whatever you like, giving you a fresh and improved sex experience.
3. LOADS OF ENTRANCE
The channel width and length of the electric masturbator are 2.36 inches and 4.72 inches, respectively.
The broad opening design of this Blowjob Stroker, in contrast to other goods' narrow channels, might lessen discomfort during insertion. After entering without difficulty, you can use the button to change the degree of clamping in the channel in accordance with your needs so that you can enjoy varying degrees of tightness. Most men can wear it, which is wonderful news, especially for many big-framed males.
4. CONSTANT HEATING AT 45°C
The masturbation cup can be instantly heated to 45°C in just two minutes, which accurately mimics the body's oral temperature and feels like a hot tongue wrapping around your glans while providing the highest stimulation and warmth. You can have three different exceptional experiences when the vibration and clamping functions are combined, and it will seem as though various girls are giving you actual oral sex.
5. IMPORTANT MATERIALS
High-quality materials are used to make each male masturbation cup. High-quality ABS makes up the exterior, while the interior is made of a smooth, supple silicone material that simulates a young, attractive woman's actual mouth. Your penis is firmly wrapped by the interior's smooth and silky surface, and with the correct vibration and pressure, you can enjoy the true pleasure of oral sex.
The upgraded dual motors bring more powerful power and bring you a more perfect oral sex experience.
You can choose 3 modes to use separately or together, so you will get different feelings.
Upgraded version 360° clamping in all directions. In order to better show you, we compare the front and back angles to you, you can clearly feel the stimulation of this clamping mode to the glans.
PRODUCT FEATURES

WEIGHT:1.10LB

SIZE:11.02*4.72*5.35

MATERIAL: ABS+silicone

WATERPROOF: Daily Waterproof
HOW TO USE

Press the on/off button for 1.5 seconds until the LED light stays on to turn on the product, and then select the product you like.




Vibration button: Short press to turn on the vibration mode and switch 7 frequencies, long press to turn off.

Clamping button: short press to open the clamping mode and switch 7 frequencies, long press to turn off.

Heating button: short press to turn on heating mode, long press to turn off.

Charging hole: support USB charging




HOW TO CLEAN




The masturbator is a daily waterproof grade and cannot be completely immersed in water.

Clean with warm water,or cleaning products made for sex toys.

Please be careful not to pour water into the button part.

Please keep it in a cool,dry and ventilated place after using the product.




HOW TO CHARGE

USB Rechargeable

The vibrating masturbator is USB rechargeable and the high-quality battery can last about 1.2 to 3hours with 4 hours full charged. You can easily charge by connecting to your phone iPad and mobile power anytime.



Stock:

In Stock

Model:

7-clamping-vibration-modes-speedy-heating-oral-sex-toy

SKU:

7-clamping-vibration-modes-speedy-heating-oral-sex-toy